Vincent Black Prince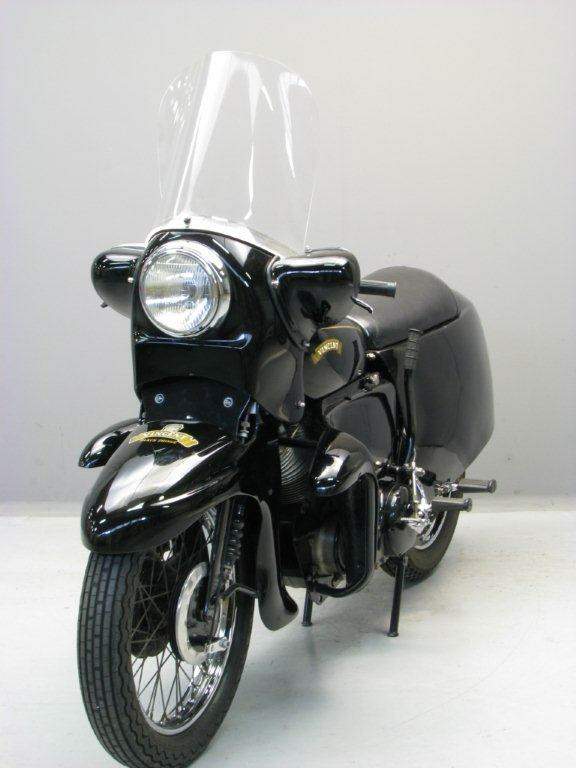 Phil Vincent was a great innovator. Having pioneered his own suspension design and created the fastest road vehicle of its time, in 1954 riders expected his latest Series D to be something special. Indeed it was, for Vincent offered a pioneering, fully enclosed aerodynamic motorcycle.
As events would prove, this was a serious miscalculation on his part, for the customers who had loved the brutal exposed engines of his earlier machines were left cold by the Series D styling. Technically it was superb, and offered a glimpse of the fully faired sports machines of the future. Press tests extolled its weather protection, economy and speed, but all-important sales were slow to follow. Meanwhile, the competition was becoming faster, better suspended and, above all, cheap.
Yet Vincent's logic was impeccable. All motorcycles were facing competition from lower-priced cars, at a time when both still represented alternative modes of transport rather than leisure accessories.
The Series D modifications were applied to the whole range: the Rapide, Black Shadow, Black Knight and range-leading Black Prince. Technical changes included coil ignition and engineering alterations. The chassis underwent major modification, the fabricated steel backbone that formed an oil tank was replaced by a simple tube, which proved weaker, and separate tank There was a new rear subframe/seat support and a hand lever to remove the chore of putting the bike on its stand. Problems with supply of glass-fibre meant that some Series D machines were supplied in naked form.
Even so, many thought the appearance ugly.
Meanwhile another venture, the Amanda water scooter was causing Vincent difficulties. Predating the jet ski by a quarter of a century, its technical and safety problems, plus the discovery that Vincent was losing money on bike sales, pushed the company into closure.
The last Vincent was built barely a week before Christmas 1955. It is a strange twist of fate that the enclosed models, through rarity, are now among the most sought-after of the survivors.
Vincent Black Prince (1955)
Years in production: 1954-55 Engine type: 50 degree V-twin ohv
four-stroke Bore and stroke: 84 x 90mm Capacity: 998cc Compression ratio: 7.3:1 Power: 55bhp @ 5700rpm Carburettors: I Viiin Amals Tyres (front/rear): 3'hx I9in/
4x I8in Weight 4601b Top speed: 120mph